We believe in using high quality ingredients
✓Keep in freezer.
✓Thaw before feeding until it is soft to touch.
✓If stored in fridge, product must be consumed in 7 days.
✓Thoroughly wash all utensils, work areas and hands with warm water and soap after contacting raw food.
Cat Feeding Guide
Feeding guides are a starting point. Adjustments may need to be made according to activity, breed and even dependant on the weather as maintaining body temperature can influence energy requirements.
| | |
| --- | --- |
| Adult size of cat | Adult Cubes/Day |
| 3kg | 6 ½ |
| 4kg | 8 |
| 5kg | 10 |
| 6kg | 13 |
| 7kg | 15 |
Changeover to new diet
As with introducing any diet, this is best done gradually to allow time for your cat's gut to adjust. We recommend doing this over a 4-7-day period depending on your cat's tolerance to dietary change.
25% NEW FOOD, 75% OLD FOOD
50% NEW FOOD, 50% OLD FOOD
75% NEW FOOD, 25% OLD FOOD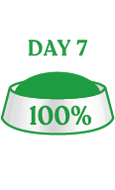 100% NEW FOOD
Body Condition Score
Adjust feeding to meet a body condition score of 3.
Monitor your cat's body condition score below. If it is 4 or above, reduce the amount you feed by 5% then reassess after 1-2 weeks. If it is 2 or below, increase the amount you feed by 5% then reassess. If in doubt, please consult your vet.
Maintaining optimal body condition can lead to a longer and healthier life for your pet.
Can easily feel spine, pelvis and ribs. Severe tummy tuck. No significant fat
Can see and feel ribs with no fat on top. Obvious tummy tuck and visible spine.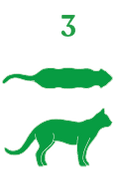 Can feel ribs without much fat. Visible tummy tuck from above and side. Little fat on belly.
Hard to feel ribs. Small or no visible tuck at waist. Reasonable rounding of belly.
Large build up of fat on face, spine and limbs and round belly.
ASC Certified Fresh Salmon
Rich in omega-3 and omega-6 to support a strong immune system.
Fresh Chicken
Chicken is a source of high-quality protein and adds flavour to a diet.
Fresh Whole Mackerel
Mackerel is an excellent source of protein packed with EPA and DHA
Beef Liver
Beef liver is a vitamin-rich protein
Kelp
Kelp is a rich source of minerals

Vitamins & Minerals
Provide a complete & balanced meal

Salt
Provide flavour enhancement for a more palatable meal
Scan the QR code on the back of the pack to find out where the ingredients are sourced
ASC Certified Fresh Salmon, (Muscle Meat, Bone, Skins), Fresh Chicken (Muscle Meat, Bone) Fresh Whole Mackerel, Fresh Beef Liver, Kelp, Vitamins, Minerals, Salt.
OPEN PADDOCK Wild Kangaroo Bites is formulated to meet the nutritional levels established by the AAFCO Cat Food Nutrient Profiles for Adult Maintenance.
Nutritional Breakdown
Crude Protein - 11.2%
Protein is essential for building and repairing muscles and organs, various physiological processes, and an energy source.
Crude Fat - 10.5%
Fat is twice as energy dense as protein and carbohydrate, and highly digestible. Fat is essential for the absorption of fat-soluble vitamins, and essential fatty acids.
Metabolisable Energy (ME) - 139 kcal / 100g
Metabolisable energy determines the energy concentration of the diet on a gram by gram basis.
| Nutrient | Amount | What It's Useful For |
| --- | --- | --- |
| Crude Protein | 11.2% | Protein is essential for building and repairing muscles and organs, various physiological processes, and an energy source. |
| Crude Fat | 10.5% | Fat is twice as energy dense as protein and carbohydrate, and highly digestible. Fat is essential for the absorption of fat-soluble vitamins, and essential fatty acids. |
| Metabolisable Energy (ME) | 139 kcal / 100g | Metabolisable energy determines the energy concentration of the diet on a gram by gram basis. |